Watch! Tack Room Decorating Contest
<iframe width="1280" height="720" src="https://www.youtube.com/embed/offAQfn2W4g?rel=0" frameborder="0" allow="autoplay; encrypted-media" allowfullscreen></iframe>
We're At HITS, Coachella For The Annual Tack Room Decorating Contest Sponsored By Purina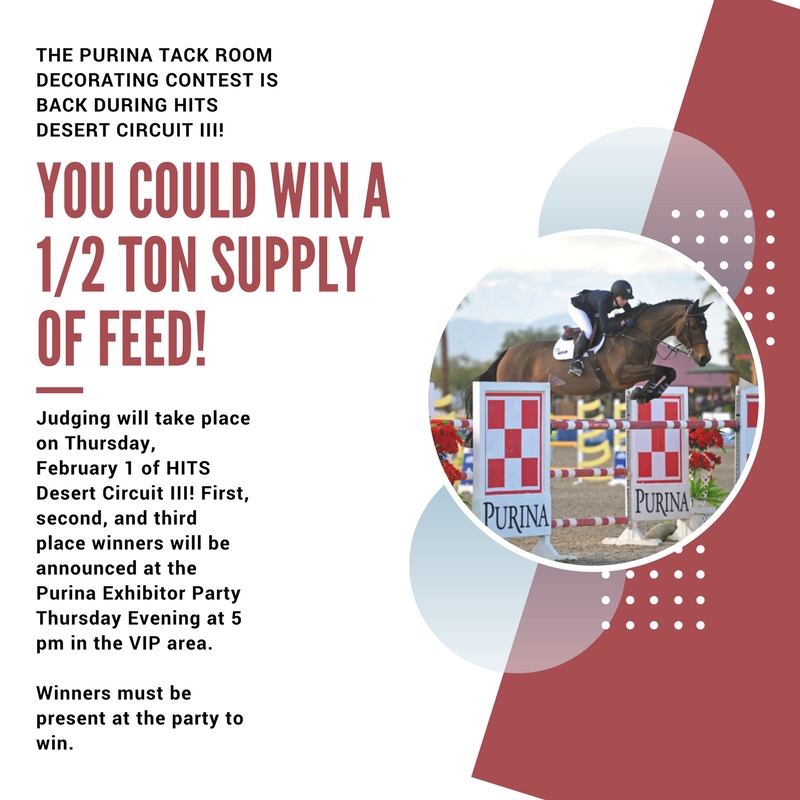 The HITS Coachella Desert Circuit features eight weeks of USEF Premier-rated Hunters and 5*/6* Jumpers with total prizes of nearly $3 million.
During longer circuits like HITS Coachella, many barns and trainers go out of their way to ensure their clients and everyone on their team, including the horses, are as comfortable as possible.
They bring elaborate "set-ups" that include tents, drapes, comfortable furniture and more, all themed to match their barn colors and logo.
Many will use in fresh grass, plants and flowers, turning the desert into an oasis.

Purina gave away feed and other great prizes to five winning barns:
Citrus Hill Farms
Newmarket Farm
Lindemann Barnett
Huntover and;
Durango