Hampton Classic 2017 Official Poster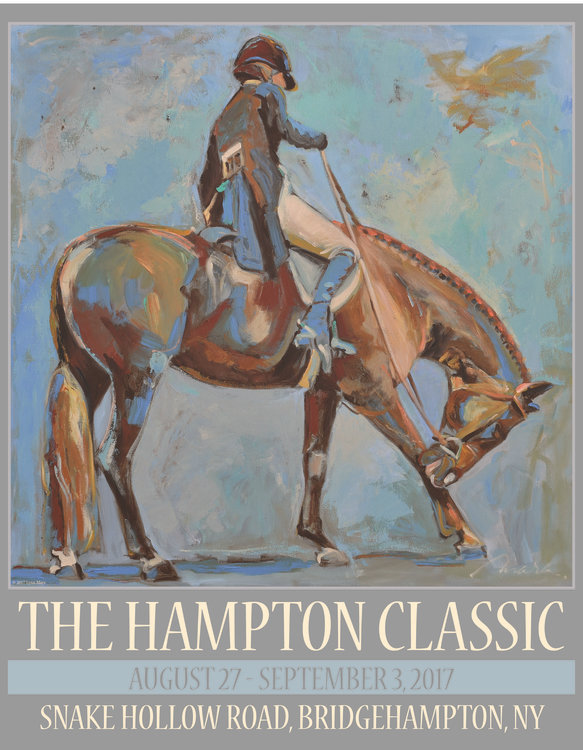 Bridgehampton, NY – May 30, 2017 – The Hampton Classic Horse Show, one of the largest and most elite outdoor equestrian events in the nation, is delighted to announce that Lynn Mara, a Southampton's native, has been selected as the Official Poster Artist for the 42st annual show taking place August 27-September 3. The Hampton Classic's iconic posters are highly sought after souvenirs – many of which become collectors' items – and they begin selling long before the event even starts!
Mara's selected artwork, "Grace and Strength," is an acrylic on canvas painted in a color pallet consisting of brown and blues to blue-greens which she describes as 'Hamptons colors.' She created the piece from a photograph that she took at the Hampton Classic Horse Show.
"I am overjoyed and grateful to the committee for liking my work and for selecting me this year," said Mara. "It has been my lifelong dream to see my work appear one day on an edition of the Hampton Classic Poster. Now, that dream is a reality!
"Horses have always captivated me with their beauty, grace and strength," added Mara. "They are my passion. Each summer I take hundreds of photographs at the Hampton Classic looking for those special spontaneous moments between horse and rider and for those perfect compositions that will inspire me to paint the rest of the year. I sketched my subject with very fluid paint first and filled in the shapes, very unselfconsciously, with big brush loads of paint that were pleasing to my eye. Then I worked with a palette knife to develop the background surrounding the horse and rider. There are layers upon layers. How it evolved is a little accidental, but the end result is almost atmospheric and makes me feel as though I can smell hedge blossoms (the unofficial scent of the Hamptons), leather and horses and humid late August air."
Born and raised in Southampton, near the Hampton Classic, Mara is a prolific painter who captures the American spirit through her works. Her Impressionist-style compositions cull images from our nation's fabric that are steeped with a classic sensibility. Known for her bold portraits of Indian chiefs, energetic equestrian scenes, and sun-bleached landscapes, Mara offers a personalized take on the wide spectrum of American iconography. Through brilliant color and spectacular light, Mara spins a series of vibrant moments from life into a spiritual continuum that continue to lay their legacy upon her canvases.
Mara earned her BA from Marymount College (Arlington, VA). In addition to her many solo shows and exhibitions, her artworks are featured in many prominent public and private collections. Mara is a devoted mother of four sons, and lives and works in Bedford, NY with her husband Frank. As a Southampton native, Mara also enjoys spending full summers in the countryside. For more information on Mara, please visit her website at http://www.lynnmara.com.
The Hampton Classic is a premier destination for the 'who's who' in the horse show world, hosting a bevy of top names in the sport of international show jumping that compete for some of the richest prize money in the nation. The show hosts more than 100 classes of competition for horses and riders of all ages and abilities and showcases the highest levels of equestrian show jumping competition in six show rings. A wide range of hunter, jumper and equitation classes are offered at all levels, from leadline classes and all the way up to grand prix level. Classes are also featured for riders with disabilities.
Set amidst the splendor of Long Island's famed Hamptons, near some of the world's most beautiful beaches, the Hampton Classic is the culminating event of the Hamptons' famed summer season. Considered the event 'to see and be seen,' A-list celebrities, business leaders, and socialites are spotted among the approximately 50,000 attendees every year.
The Hampton Classic also features luxurious shopping at more than 70 vendors at their Boutique Garden as well as a wide selection of dining options and a Farmer's Market, all on its immaculate 60-acre show grounds.
For more information on the Hampton Classic Horse Show, please visit the Hampton Classic website at www.hamptonclassic.com or call (631) 537-3177. Hampton Classic Horse Show, Inc. is a 501(c)(3) charitable corporation.